Home


New Folks


FAQ



Pennsic People


Mystic Mail


Pennsic U


Photos


Stories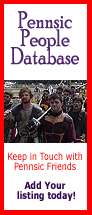 Site Map

Comments

Sponsorship

Links



What is Pennsic War?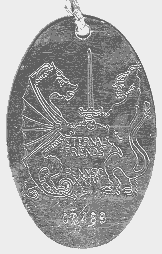 Just before leaving home for Pennsic one year, I sent off a letter to a friend in which I tried to describe The War to someone who hadn't even heard of the S.C.A. "What can you tell someone," I wondered, "while being honest, sincere, and informative?" What I came up with was a list of anecdotes that I've collected over the years. I can't honestly say that it was a good list, because she decided Pennsic was not a place for her, but I think it was an interesting start nonetheless.

With that warning, dear reader, please read my writings freely, but take them with a grain of salt. Everyone is bound to have different expectations of Pennsic War and the S.C.A., and your opinions of such an event will most certainly be expressed differently from mine. One thing that I think everyone who has seen it will agree upon: "There is nothing else like it in the world."
Pennsic War is:
An annual spectacle where two great kingdoms (Midrealm and East Kingdom) of the Society for Creative Anachronisms go into battle to lose the prize - an undesirable plot of land known as "Pittsburgh". (Why Pittsburgh gets picked on, I have no clue.)

A party of 10,000 of your closest friends.

Nine days of the most incredible shopping ever seen.

An event for which people will quit their jobs (and sometimes even their marriage) in order to attend.

A place where six of the seven cardinal sins are committed daily. (Guess which one the seventh is!)

The War's motto is: "Annual Enemies, Eternal Friends"

(to be continued...)
The tag in the picture above was the one issued at Pennsic War XXIV (24).
---
Pennsic.net Home - Search - FAQ - Photos - Pennsic People Database - Comments - Advertising
Didn't find what you're looking for? Try the Index of Topics
---
©1995-2016 Alexander. All Rights Reserved.