Alexander
The Lost
---
Who Am I?
musician/performer of the flute and hammered dulcimer
semi-inactive member of Markland
founder of The Griffin's Den
proprietor/designer/builder of Griffin Music dulcimers
just another Wandering Lost Soul
Why am I "The Lost"?
It's a statement about my life, both mundane and as a reenactor. Friends of mine who know me best say that the title is quite appropriate in some respects....
Why did I make this Pennsic Information Web Site?
Because: (choose one)
it was an idea I had while trying to stay awake on one long 12 hour trip home from Pennsic
I thought I had something to say
to dispel bad rumors about Pennsic War
there weren't enough pictures on the Web about Pennsic
Pennsic War deserves "first person" descriptions and stories
Pennsic War needs a community where people can interact the other 50 weeks of the year
all of the above
none of the above
What do I do?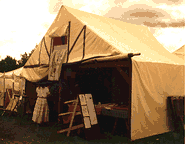 Many people might remember me as the merchant on Street of Gold in a two-story pavilion called The Griffin's Den where I sold my hammered dulcimers under the label of Griffin Music. Several years have passed since I last merchanted, but I still perform flute music in the common areas each year.
Musician, eh? What do I play?
I am proficient in the hammered dulcimer and six-hole Renaissance-style keyless open-hole flute which I play in traditional Irish style. I don't make flutes (yet) so the ones I play are by Eamonn Cotter and Patrick Olwell. Slowly but surely, I am picking up bombarde because of my incredible love for Breton music. Even more slowly I am working on Celtic harp and oboe. Someday I hope to work on Irish Bouzouki because I love the sound of it.

My musical pursuits follow mostly the Celtic traditional style, including Irish, Scottish, Breton, English, and Northumbrian. I also have a strong repertoire in English Country and Medieval (i.e. Arbeau) dance music which is popular in the S.C.A. While relaxing at home, I enjoy Classical (esp. Rimsky-Korsakov, Vivaldi), Celtic (Lunasa, Altan, Bothy Band, Silly Wizard, Chieftans, Deanta, Solas, Dervish), Punk (Bad Religion, Yellowcard, Lagwagon, AFI, Offspring), Rock (Metallica, Genesis, (early) Kansas), and other miscellaneous Folk (Wild Asparagus, Alan Stivell, Tammles, Loreena McKennitt, George Winston). This is by no means a comprehensive list.

Last updated: 20-Aug-2003
---
Pennsic.net Home - Search - FAQ - Photos - Pennsic People Database - Comments - Advertising
Didn't find what you're looking for? Try the Index of Topics
---
©1995-2016 Alexander. All Rights Reserved.