Home


New Folks


FAQ



Pennsic People


Mystic Mail


Pennsic U


Photos


Stories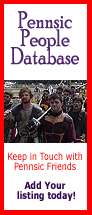 Site Map

Comments

Sponsorship

Links



Frequently Asked Questions on Battlefield
---
You must be a member of the S.C.A. and pass a competency test called an "Authorization." This must be done several weeks prior to War i.e. you cannot authorize at Pennsic War itself. Without the authorization, you will still be able to participate in the Archery Competition portion of the War, but none of the hand-to-hand combat.
this web page not yet complete
Have a Question not answered here? Post it to our FAQ message board!
Post a FAQ to our message board - - Read FAQ Message board
---
Last Updated: 05-Jun-2004
---
Pennsic.net Home - Search - FAQ - Photos - Pennsic People Database - Comments - Advertising
Didn't find what you're looking for? Try the Index of Topics
---
©1995-2016 Alexander. All Rights Reserved.