Home


New Folks


FAQ



Pennsic People


Mystic Mail


Pennsic U


Photos


Stories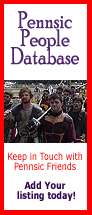 Site Map

Comments

Sponsorship

Links



Frequently Asked Questions on Cooper's Lake Campground
---
What camping supplies are at Cooper's Store?
Cooper's Lake camp store, which is located at The Barn, is open until 10 PM every day and has an impressive stock of food and sundries. For a brief list, see the Pack List page.

At Pennsic 29 (2000) there were about 15 payphones. At Pennsic 30 (2001) there were only about 3. What happened? The rumor is that SPRINT, who handles phone service in the area, wasn't getting enough profit from payphones because everyone was using calling cards or cell phones.

In truth, the reason why there are so few pay phones is because of new residential development in the area taking up the extra phone circuits. I have this on good authority from the Cooper's. The bad news is that it may be a while (if ever) before new phone lines are brought to the area.

If you have a cell phone, bring it to War. Service is very good and you can avoid the horrendously long public phone queues.

Generally, yes, except in the merchant area and in campsites directly over the natural gas pipeline. There have been a few years where the county fire marshall instituted a ban because of drought. Firewood can be bought in small quantities at the Cooper's Store, or if you want a truckload there are a few local farmers who will deliver right to your campsite.

Internet Access: At Pennsic War there is a booth specializing in Internet Access and Digital Media services such as desktop publishing, digital photo printing and camera downloading. The booth is called "Mystic Mail" and for more details See This Website

Telephone: There are no public phones on site.

Due to local upgrades in cell towers, Cellular Phone service at Pennsic war is excellent... in fact, the usage of cell phones at Pennsic 32 was astounding. Even down in the Bog, traditionally a weak signal area, you can get a "5" signal strength. Due to the reduction of pay phones, I say that having a cell phone is the best choice if you really need to stay in touch with the outside world.

US Mail: During the 2nd week of Pennsic, there is an extension of the U.S. Post Office right on site! They handle almost every outgoing mail service you might need, even Express Mail overnite packages. Look for the little trailer set up near the entrance to Cooper's Lake campground. Many people like to send postcards from the war because the Post Office sometimes makes a special "Pennsic War" cancellation stamp.
Have a Question not answered here? Post it to our FAQ message board!
Post a FAQ to our message board - - Read FAQ Message board
---
Pennsic.net Home - Search - FAQ - Photos - Pennsic People Database - Comments - Advertising
Didn't find what you're looking for? Try the Index of Topics
---
©1995-2016 Alexander. All Rights Reserved.
Last Updated: 05-June-2004