Home


New Folks


FAQ



Pennsic People


Mystic Mail


Pennsic U


Photos


Stories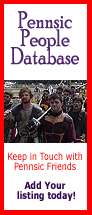 Site Map

Comments

Sponsorship

Links



Frequently Asked Questions on Camping
---
Cooper's Lake Campground is an enormous 500+ acre facility which is host to the 12,000+ attendees of Pennsic War each year. The entire campground is divided into about 90 land "parcels" each between 2 and 15 acres. Most people (about 98%) belong to organized groups who camp in their traditional spots year to year. The remaining 2% will find space in reserved "independent" camping areas. You do not need to belong to a group to attend Pennsic War, but I recommend it over independent camping.

Most of the groups that attend Pennsic War (and there are over 400 of them) are private or membership based. Many of them start organizing their member attendance as early as February or March. If you have a friend who belongs to a group, you should see what their group's policy is on new members. You may also try to form a new group, but be aware that there are formal procedures for registering and allocating land.

The best suggestion I can offer is to contact your local S.C.A. chapter and talk with their Seneschal or attend their next meeting. The local group may not be attending together, but you'll get a lot of information on your options.

There are areas set aside for independent Pennsic-goers. As I've always camped with a group, I don't know how plentiful the space is, or how noisy your neighbors will be. Looking around the campground last year, I got the impression that the areas set aside for independent camping were not really in desirable locations, both for inconvenience to amenities and locality of noise. Another concern about independent camping is that you may not have as much security for your belongings than if you stayed with a group, since groups often post guards or camp "sitters."

There is limited RV camping at Pennsic War and it is located on the far edge of the battlefield past the reserved parking area. The bad news is that the ground is on a slight to moderate incline and there are no water, electric, or sewage facilities in this area. The good news is that it is probably the quietest area in all of Pennsic. There are special registration rules for RV's and here is a quote from last year's Pre-Pennsic Pamphlet:

If you want to live in your RV at Pennsic you MUST pre-register for a space in the RV area, as well as pre-register for the event. The cost for space in the RV area is an additional $20. To request space please include a letter to the Pennsic Pre-Registration Office with your regular pre-registration form. The letter must contain your name (modern and SCA), your home address, you telephone number, the day you expect to arrive at Pennsic, anda basic description of the RV (i.e., 27' x 15'). You should include payment of the $20 with this letter. Please make a separate check for payment of the RV fee.

Yes, but don't expect many vacancies. And most are over 30 miles away from the site. Prices tend to be reasonable at around $45-80 per night. The Eldorado Motel in Shenango, PA is a nice place with air conditioning that is only about 12 miles from site.

95% of all privies are going to be porta-johns. These tend to be cleaned daily and are quite acceptable under the circumstances. I would suggest bringing a (non-flame) light source on night excursions, as those tiny little boxes are a nightmare to maneuver in total darkness. Where are the cleanest porta-johns to be found? Outside the bathhouse across from the Cooper's store. Where are the worst? Down in the Bog. Too few units allocated for so many people.

Public shower facilities are always at a premium. You can expect a 10-30 minute waiting line during most daylight hours. Most large "organized" camping groups have brought or constructed their own communal shower stalls in recent years. (See my article on luxury camping for hot water tips.) Sometimes this is one of the greatest benefits of being with a large group.

There are three washing machines onsite. However as you might expect, this is nowhere near enough for 12,000 people. Typically there is a one to two hour wait for a machine. A few dryers are available, and there is always the option of hanging your clothes to dry. If you have a car and spare time, you can go into one of the local towns for laundromats.
Have a Question not answered here? Post it to our FAQ message board!
Post a FAQ to our message board - - Read FAQ Message board
---
Pennsic.net Home - Search - FAQ - Photos - Pennsic People Database - Comments - Advertising
Didn't find what you're looking for? Try the Index of Topics
---
©1995-2016 Alexander. All Rights Reserved.
Last Updated: 05-June-2004