Home


New Folks


FAQ



Pennsic People


Mystic Mail


Pennsic U


Photos


Stories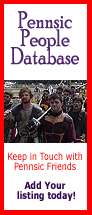 Site Map

Comments

Sponsorship

Links



Frequently Asked Questions on Local Information
Where can I store things between Wars?
I'm arriving in Pittsburgh. How do I get to war?
How do I drive there?
What about car-pools?
I don't want to camp. Are there hotels and towns nearby?
Where are the nearest towns?
What else is there to do in the area?
---
There are two options for those who like to have more at War than they can carry. First, Cooper's Lake offers an on-site storage service for a very reasonable fee (about $125/year). All your durable posessions (tent poles, wood furniture, kitchen gear) remain on a trailer that you provide and leave with the Coopers. The trailer does not need to be registered or roadworthy, but it must be in good enough condition for the Coopers to haul around the campsite with their tractors. I would estimate that over 200 such trailers are stored at the Coopers by Pennsic folks each year.

Option #2 is local self-storage, available in Portersville, New Castle, and Butler. A bit out of the way and much more expensive, but more secure from the elements and other hazards.

For supply runs, eating out, grocery shopping, laundry, etc., the two nearest towns of any note are New Castle and Butler.

New Castle is just East of the PA/OH border, about 9 miles due West from Pennsic War on route 422. The Giant Eagle is a popular place to stock up on all groceries imagineable. On the far West side of New Castle, there is a large shopping area containing a Super Wal-Mart (includes regular Wal-Mart items and a very large grocery) and a Lowe's lumber and hardware store.

As a side note, New Castle is the fireworks captial of the United States. The internationally famous "Zambelli Brothers" fireworks factory is located there.

Butler is about 10 miles due East on route 422. I haven't been there in many years and there has been a lot of new development since. I know there is at least one large movie theatre if you want to take an afternoon away from Pennsic and the sweltering August heat.

Each year during the first weekend of August there is the Northwest PA Steam Show in Portersville. I first saw this show a few years ago and was amazed at the variety of antique farm equipment, much of it in working condition. Admission is a modest $4 and it runs both Saturday and Sunday. There is food, demonstrations, and an outdoor flea market which is an excellent place to get cheap nick-nacks for Pennsic such as hardware, rope, duct tape, batteries, and convenience items. Great fun for kids too. I think that the steam show is one of the best kept secrets of Pennsic War.

There is no direct service from the airport or bus station to War. Your only options are to be picked up by a friend or take an expensive taxi ride. I have heard that Greyhound has a bus stop in Slippery Rock, PA (the nearest town to Pennsic) however I don't have any specific information on this.

Directions can be found here.

Have a Question not answered here? Post it to our FAQ message board!
Post a FAQ to our message board - - Read FAQ Message board

---

Last Updated: 29-Jul-2006

---

Pennsic.net Home - Search - FAQ - Photos - Pennsic People Database - Comments - Advertising
Didn't find what you're looking for? Try the Index of Topics

---

©1995-2016 Alexander. All Rights Reserved.