Home


New Folks


FAQ



Pennsic People


Mystic Mail


Pennsic U


Photos


Stories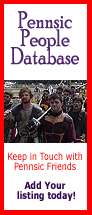 Site Map

Comments

Sponsorship

Links



Frequently Asked Questions - Miscellaneous
---
Yes, however you may not bring anyone onsite that has not registered and paid as a participant of Pennsic War. That includes wedding officials (priests, rabbis, etc.) wedding guests and relatives.

The first Pennsic War at Cooper's Lake was 5 or 6. It has been there ever since. I have heard that the S.C.A. has a five year contract with the Coopers, so there should be no question where it will be held in future years.

Yes, there are may very talented merchants at Pennsic. I prefer to shop at those that hand-make their wares, rather than those that just import them. Here are some to look for:


Turtle Island Moccasins - wonderful custom fitted leather boots and Moccasins. Very comfortable, and they love to create custom designs.

Crafty Celts - Appreciate excellent handworked goods such as pendants, torcs, hair pins, brooches, arm bands, or cloak clasps? There is no better place to visit! Really good prices, too. If you don't catch them at Pennsic, try to hunt them down at the Maryland Renaissance Festival where they've just recently made a booth. Another website proudly designed and managed by me!

DeRose's Italian Ices (and DeRoses Restaurant) - My #1 choice for lunch. When it gets hot at Pennsic, make sure you get one of their cold treats -- real homemade style Italian Ices.

Travel Clothing by Half Moon - No, they're not at Pennsic. But I see more and more of their garments everywhere I go... fantastically beautiful cloaks, capes, and coats that are made from thick blanket-grade 85%/15% wool/nylon blend. By the way, I designed their web site too.

Dancing Pig Pottery - imaginative, beautiful, and exceptionally durable pottery. I can't go to a war without buying something from Virginia, the owner and crafter of DPP.

Please fill out my survey form! Your opinions matter. It could make the difference between a mediocre Pennsic War page or a great one! Then again, maybe not.
Have a Question not answered here? Post it to our FAQ message board!
Post a FAQ to our message board - - Read FAQ Message board
---
Last Updated: 04-Nov-2004
---
Pennsic.net Home - Search - FAQ - Photos - Pennsic People Database - Comments - Advertising
Didn't find what you're looking for? Try the Index of Topics
---
©1995-2016 Alexander. All Rights Reserved.