Home


New Folks


FAQ



Pennsic People


Mystic Mail


Pennsic U


Photos


Stories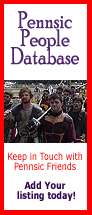 Site Map

Comments

Sponsorship

Links



Frequently Asked Questions on Security
---
Pennsic has virtually all of the elements of a small city, including crime. Theft of personal goods is FREQUENT, serious assault has been a problem, and rape is not unheard of. While at the war, you should always remain aware of the risks and plan appropriately, particularly with regard to valuables. "If you don't want your worldly posessions to be stolen, don't bring them to War."

A few people have written to me saying that they've never heard of theft occurring at War, and that I'm out of my mind for saying that it is a problem at all. Let me say just these few words: I had $300 stolen from my camp's funds a few years back. One year while I was staying in East Kingdom Royal, I learned that one of the camp organizer's armor bag and personal funds were stolen and never found. In the years I have merchanted, I know of several fellow merchants who have had problems with shoplifting AND theft. I don't want to name names, but theft is a VERY REAL problem at Pennsic War, and if you don't think so, you're probably the next target.

For those of you who are so disillusioned to think that crime doesn't happen at Pennsic, I ask you this: Why would the heralds put out a special announcement on the billboards warning the populace of theft?

The following phone number should be used only in the event of emergencies or highly urgent matters: 724-368-8741. It is the phone number for "Information Point." You will be able to leave a brief message (Ten Words Or Less) with phone number, however unless you can provide the Point with the name of the group your party is camping with, there will be no way to hand-carry the message to them.

At Pennsic: Go to the Security Tent, which is very near where you checked in at Troll. If the item isn't there, fill out a report so if it does get turned in they'll know what to do with it.

After Pennsic:There is usually an email contact that can be found in your Pennsic War program. Items lost at one War will be brought to the next. If they aren't claimed, they are auctioned at the following War.

Sorry, can't help you there. Pennsic is V-A-S-T and people just tend to wander for long periods of time. Hopefully they'll return to you by the end of War. Seriously though, if a child goes missing you should report this to Security immediately -- they have explicit procedures for locating lost little ones.
---
Pennsic.net Home - Search - FAQ - Photos - Pennsic People Database - Comments - Advertising
Didn't find what you're looking for? Try the Index of Topics
---
©1995-2016 Alexander. All Rights Reserved.
Last Updated: 23-Jul-2006