Home


New Folks


FAQ



Pennsic People


Mystic Mail


Pennsic U


Photos


Stories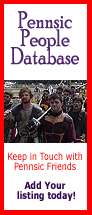 Site Map

Comments

Sponsorship

Links



Frequently Asked Questions on Visiting / First-Timers
---
Check out my pack list.

Yes, but you must pay the full site fee (up to $135) to cover your stay for the entire event. In other words, you cannot just "day-trip." The only way to get in is to be a fully paid, fully registered participant of the event regardless of how long you actually stay.

No. Membership is not required at this time, though it may be in the future. Non-members must pay a higher fee, supposedly for extra liability insurance. You may be interested to know that a significant percentage of attendees (maybe 30% or more) are not members.

Yes. There is a nominal (about $20) discount for being a member of the S.C.A. Note that you must provide proof of membership which can be a member card or copy of your kingdom newsletter. It must show proof that your membership is current. In the past there has been a membership signup booth on-site allowing you to register and get the discount immediately, however this booth is not open every day of war.

There are many on-line resources for information. If you have a specific question you might want to try posting to the Pennsic Tribes board at www.tribe.net, or to the Usenet group rec.org.sca (a.k.a. "The Rialto"). Schedules for battles and classes are available in a booklet handed out at Troll.

Pre-registration is not a requirement, however there are some advantages such as a discount on your site fee. For more details on pre-registration, see this page.

Yes, there is a Media Liaison you need to contact in order to arrange for a press pass and an escort. Contact the S.C.A. several weeks before Pennsic War to make arrangements.
Have a Question not answered here? Post it to our FAQ message board!
Post a FAQ to our message board - - Read FAQ Message board
---
Pennsic.net Home - Search - FAQ - Photos - Pennsic People Database - Comments - Advertising
Didn't find what you're looking for? Try the Index of Topics
---
©1995-2016 Alexander. All Rights Reserved.
Last Updated: 06-Jun-2004