Home


New Folks


FAQ



Pennsic People


Mystic Mail


Pennsic U


Photos


Stories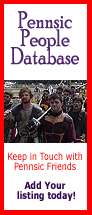 Site Map

Comments

Sponsorship

Links



---
Many years ago, three close friends (all members of Dagorhir at the time) came up with the idea for a unique pavilion in the style of an Old European Inn, one you might find at a crossroads or small town. The building was to be constructed of wood and canvas, and to be made of modular sections. Thus it could be toted by trailer and be set up for a weekend event like any tent. The aesthetic inspiration was the original cover of the Thieves World (vol. 1) novel which depicted an inkeeper and three patrons at a table. It also depicted the internal structure of a tavern which became the model for our centerpole.

We wanted to create a sociable tavern-like atmosphere, complete with lanterns and candles, mugs and kegs, bar tables and barmaids. And for its real purpose, it was to be the centerpoint of feasts, events, and assorted revelry. Plans were made to establish a food service to cater to Dagorhir, Markland, and eventually Pennsic War.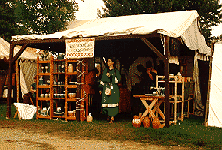 The original Griffin's Den as it appeared at Pennsic many years ago. Here, the structure was used by Dancing Pig Pottery and was situated in front of the Barn when at Pennsic.

The first appearance of the structure was at a Dagorhir Allthyng. Its legs stood at 8' tall, making setup of the framework very difficult. After this event the legs were dropped to 7'. The next ill-fated appearance was six months later in the middle of winter, a weekend complete with below freezing temperatures and snowfall. We quickly learned that pressure treated 4x4's will twist and warp severely in their first year, and that cotton canvas shrinks an amazing 10-20% in these temperatures! A new rule was added to our charter that no set-ups would occur between the months of November and March.

The next two years involved numerous appearances and many successful feasts. We were slowly building up capital to buy real kitchenware, and a reputation for Good Food. At one point a loft was added, complete with working trapdoor and ladder. The inkeepers finally had a place to sleep!

Our appearance at Pennsic War as a full-fledged food service came at a time when the membership was at a peak and spirits were high. Our success at the War was due mostly to the help we received from James and Judith Hoch, former proprietors of the Camp Followers. They got us connected with suppliers, propane, a hot water heater, advertising, and advice both on a business and personal level. They were wonderful! As a result of all our efforts, we managed a killer breakfast service. We became so popular that people started lining outside our door at 7:30 AM waiting for coffee, even though we didn't open until 8!

Oh, when I say that it was a "killer" service, I also mean that it killed us. Tempers flared, food shortages and town runs were frequent, one act of theft costing us around $300 occured, and having to wake up at 6:30 every morning was just No Fun. Griffin's Den activities slowed down to a crawl after that Pennsic, and for three years afterwards I used the structure for my own merchanting at Pennsic as Griffin Music.

Today, it is used as a different merchant booth but it still looks as good as it always has. Many people have asked about its construction, its cost and whether it would be for sale. I plan to sell the building when I get out of merchanting which may be this year or several years down the road.
---
The Griffin's Den - A Wondrous Construction Project
Several years ago, I made a second Griffin's Den, built with the same overall philosophy as the original. This time with some significantly different construction techniques. This building is my own personal tent now, and appears in the Merchant Area of Pennsic War year after year.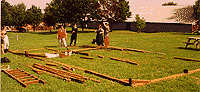 Step 1: Laying out the frame

The frame is first layed out in sections, both to get the pieces in the right places, and to mark off distances between legs. Most of the frame is bolted together, with specially designed metal brackets at the top of each of the leg joints. (Don't try making these at home - they're formed from 1/4" plate steel and were bent by an enormous CAD-controlled metal brake.)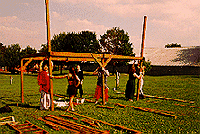 Step 2: Erecting frame sections

Just like raising a pole barn! Five people is nominal, three is minimal. Being at least 5'9" tall helps a bit when you're trying to bolt things seven feet off the ground.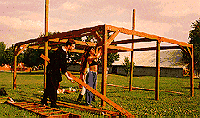 Step 3: Applying joists and flooring

The second story is built much like the floor in a conventional modern house. 2x4 joists support 1/2" plywood flooring. The joists don't bolt to the frame - instead, they are held in place with special hang brackets (also 1/4" steel) which speed construction and allow for adjustment.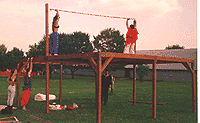 Step 4: Ridge pole and canvas

The roof fabric is supported by both wood and rope, with the outer rafters being 2x2 poles which really add shape and strength to the roof. The canvas covering is a one-piece custom fit cover that is pulled over the ridge pole and then dropped over all sides of the building.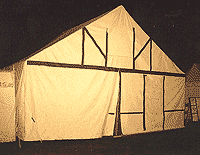 Step 5: Party Time

The bolts are checked one last time. Everybody's stuff is moved in, the kitchen tent is set up, and we then collapse after a good afternoon's work.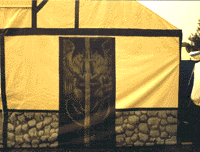 The completed tent, after Tristan Alexander finished painting the doors and foundation.
---
Pennsic.net Home - Search - FAQ - Photos - Pennsic People Database - Comments - Advertising
Didn't find what you're looking for? Try the Index of Topics
---
©1995-2016 Alexander. All Rights Reserved.