Home


New Folks


FAQ



Pennsic People


Mystic Mail


Pennsic U


Photos


Stories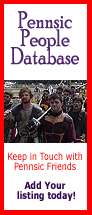 Site Map

Comments

Sponsorship

Links



Internet and Media Services
The Mundane World doesn't stop just because you're at Pennsic War....

We're the only on-site merchant establishment at Cooper's Lake campground to offer high speed internet access and a full range of printing and media services. We welcome you to our establishment and wish you an enjoyable and relaxing stay at War!
Services

New in 2014: Expanded Wi-Fi
We will be expanding WiFi coverage for notebooks, iPads iPhones and tablets. Check with the front desk for details.
High Speed Internet - Computer access using our computers or yours
Email access
FAX - send and receive
Photocopying
Document Scanning
Printing - Black-and-white or Color.
Pennsic University Documents
Photo Archiving - download and burn your pennsic photos to CD

Mystic Mail Information

Look for the sign of the Mystic Mail Gypsy...
near the food court!
---
Pennsic.net Home - Search - FAQ - Photos - Pennsic People Database - Comments - Advertising
Didn't find what you're looking for? Try the Index of Topics
---
©1995-2012 Alexander. All Rights Reserved.
Last modified: 18-June-2000