Home


New Folks


FAQ



Pennsic People


Mystic Mail


Pennsic U


Photos


Stories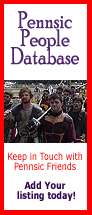 Site Map

Comments

Sponsorship

Links



Pennsic War Pack List
On This Page...
... or keep reading for very important packing and planning advice.
Introduction
Pennsic War camping offers all of the challenges and joys of roughing it outdoors, including cooking by campfire, mosquitoes, ticks (though I've seen only one in 12 years), bathing in a running water creek, sunburn, hot days (peaks as high as 105° F [40° C]), cold nights (it can get down below 50° F [10° C]), thunderstorms, tornado-like winds, and of course loud neighbors who want to drink and drum until sunrise.
Make a Pack List well in advance
Packing for Pennsic War is a task that should not be taken lightly. As you will be making Pennsic your home for one or two weeks of your life, it is important that you consider every possible contingency that may arise. Very Important! Do not trust your packing to memory. Write up your own pack list well in advance -- like two or three months. Start today - you won't regret it.
Use a "Staging Area"
When I get ready for Pennsic I have a spreadsheet developed over the years of the things I know I will need. One week before departure, I set aside a part of one room in my flat as a staging area where I begin collecting the things that will go. I fill this area first with all the obvious things (clothes, tent, feast gear) and then add to it as the week goes by. If I come across something during the week that I recognise as an item that would be useful at Pennsic, I move it immediately to the staging area. Or write it down on the pack list. I cannot emphasize enough the importance of both a pack list and staging area. The latter will also help you decide how you will pack your vehicle - if it starts looking like it won't all fit, this gives you a chance to cut back and replan.
How To Decide What To Bring
No one but you can really determine what you will need. There are many books written on the topic of outdoor camping and many other websites that talk about planning for Pennsic War. Some of these resources will recommend that you pare down your packing to minimalist needs. That's good advice for when you will be backpacking all over the hills of Europe and Asia, however that's not appropriate advice for Pennsic War where you'll be in one place for two weeks. Most importantly realise that Pennsic camping creates many challenges because of its variable temperature. Allow flexibility both in your wardrobe and bedding. In a pinch, layering is always a good option.
What You Don't Have To Pack
Cooper's Lake Campground has an on-site store that is always adequately stocked and open most of the day (usually closes around 10pm). Costs are higher than the grocery store you have to drive 30 minutes to reach, but they're not unreasonable. Here is a brief list of what Cooper's store has to offer:
Candles
Insect repellent
Suntan lotion
Batteries
Tiki torches
Coleman fuel
Lantern oil
Rope
Tent stakes
Breakfast cereal
Luncheon meats
Bread
Eggs & dairy
Ice cream
Pre-made sandwiches
Produce *
Gatorade and sodas
Ice (approx. $2 for 7 lbs)
Bottled water
Soap, shampoo
Toothpaste
Cigarettes
Over-the-counter drugs
Flashlights
Poly tarps
ATM machine

* Recently, Cooper's Lake has provided a more extensive produce store in the food court. Aside from basic staples like carrots, lettuce, oranges, apples, onions etc. you may find tasty goods such as olives, tabouleh, dolmas, jerkys, roasted nuts, fresh breads and spreads. Vegetarians take note that this selection is a vast improvement over previous years.

Note on ATMs: Cooper's Lake has one on-site ATM located conveniently outside the store, but during the day there is a very long line of people withdrawing money. If I recall, it was on both the MAC and Cirrus networks. Other ATM machines can be found easily in the nearby towns of Butler and New Castle. Most use MAC, Plus and Cirrus.
What You Do Have To Pack
As a minimum pack list for camping out at Pennsic, I recommend the following:

a picture ID with birthdate (required for admission)
tent, windproof and waterproof
a groundcloth, such as an 8x10' polypropylene tarp
sleeping bag, pad, pillow and one extra blanket (non skin irritant)
fire extinguisher
SUNSCREEN lotion (important!)
flashlight and/or other artificial lighting
stainless steel camp cookware and eating utensils
moderate sized cooler for ice and cold drinks/food
camping chair, particularly one with a back
insect repellent
drinking mugs, horns, containers (note: ceramic is better than wood for sanitary reasons)
rain gear (even if it's mundane)
bath towel, shampoo, soap, soap case
tooth care: toothbrush, paste, dental floss
Comfortable footwear! - and an extra pair in case one pair gets wet.
For yourself, please consider the following:

proof of membership (member card, kingdom newsletter w/label) Note: SCA membership is not required to attend
your confirmation letter if you pre-registered
ATM card
sufficient cash and (recommended) traveller's checks
all the medieval garb that you own, both for coldest and hottest weather (but leave your expensive 12th night dress at home)
sufficient quantities of all necessary medications, including those you might not usually consider (antihistamines, cold remedies, anti-diharrea, Pepto Bismol, Alka-seltzer, etc.)
sun hat
ear plugs ("flents" are very good)
footwear with good soles (there are quite a few hills w/gravel)
plastic tubs w/lids to store foods and essentials (5 gallon food containers are excellent and usually free) Highly recommended to protect against rain, raccoons and mice
waterless hand cleaner (many people recommend baby wipes)
travel alarm clock
disposable camera
extra batteries for flashlight, etc.
For group camping, here are some necessities:

2 or 3 sink sized plastic wash tubs for doing dishes
Small bottle of bleach or bar tabs (see FAQ for description)
An axe or hatchet if your camp will have a fire and will be ordering wood
Full-size fire extinguisher rated for A, B, C fire types
Small box of common hand tools: hammer, screw drivers, pliers, vice grips, assortment nails and screws
An air pump (manual or 12v lighter plug) for air mattresses
hand trowel or shovel for making drainage ditches
Also check out the Luxury Camping Tips
Entirely optional, but still recommended:

credit cards
spare roll of toilet paper, handy-wipes, or paper towels
plastic kitchen bags to dry-pack clothing & food, and use for garbage
books to read
small cache of emergency food (MRE's, food bars, trail mix)
bathing suit
Cell phone (service is very good at Cooper's Lake)
When you get to Pennsic War, you should:

Obtain a copy of Baron Dur's fire safety manual (download your own copy in Adobe PDF! 480k bytes)
Locate the nearest shower house and water facilities to your campsite
Locate the 2nd nearest shower house and water facilities to your campsite
Memorize the route to the Cooper's store
Important!
You must pay your site fee in cash, travellers cheques or credit card (usually $50-120 depending on how early in the War you arrive) as soon as you arrive. There are no refunds for leaving the War early.
Absolutely no pets allowed. You will be thrown off site if you bring a dog or cat with you. I've seen it happen.

Anyone 18 and older must present a picture ID of some sort. Several people are actually sent home each year because they did not bring an ID with them.

Anyone under 18 must be accompanied by a parent or legal guardian. If you are a legal guardian or emancipated minor, you will be required to furnish court documents proving this fact. There are no exceptions to this rule.

There are strict rules and an application process involved in merchanting wares at Pennsic War. Do not go there and expect to be able to sell things without having gone through proper channels.

Your membership must be current and you must bring proof of it with you in order to get the member discount.
A Schedule Example
At the beginning of the year, try to determine when you will complete certain "milestones" along your proverbial road to Pennsic War. Especially with a participatory event of this magnitude, it is important to start planning very early and be clear on deadlines.

Below is an example schedule.

February 1
Send in your pre-registration form now.
May 1
Does your group have its own registration? Many do, and they're due about now.
June 1
Pre-registration must be received by this date
Last week in July
Pull out your tent and do a trial set-up in the yard or nearby park. Make sure every piece is accounted for and apply water sealant if necessary.
Start your "staging area" and begin putting your pack list to the test.
Have your vehicle serviced - change oil &amp filter, lube, check tires, etc.
Day of departure
Leave emergency numbers with loved ones
Double-check your pack list with what's in your staging area. Then check it a 3rd time.
Pack and go!
Pennsic.Net Customized Packing List
Exclusive to the Pennsic.Net, make a packlist just for your needs! Select your activities or responsibilities from the list below:
Other Pages of Interest
---
Pennsic.net Home - Search - FAQ - Photos - Pennsic People Database - Comments - Advertising
Didn't find what you're looking for? Try the Index of Topics
---
©1995-2016 Alexander. All Rights Reserved.
Last modified: 31-Jul-2004