Home


New Folks


FAQ



Pennsic People


Mystic Mail


Pennsic U


Photos


Stories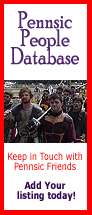 Site Map

Comments

Sponsorship

Links



Rumors!
of Past and Future Pennsic Wars
---
No Pennsic War would be complete without its share of outrageous rumors. To say the least, it's part of what makes the War the spectacle that it is, as rumors (from the most obscure to the absolutely true) become their own topics of conversation on the Rialto and SCA events for the entire year outside of the War. The ones below are a random collection of items from previous years. Where possible I have tried to help discern fact from fiction, but no guarantee is given towards accuracy or truth.

The material published here should be considered only for its entertainment value and to help you become popular at SCA events while you use this as a guideline for idle conversation material when things get boring.

Additional material for this page is most welcome; you can send it to me using the comment form. Only rumors that I have heard or can immediately confirm as true or fiction will be published. Your submission will be credited if you request.
---
---
The Lochacians (Australians) loved Pennsic so much that they are planning another "Lochac Invasion of Pennsic II" for 1998. An advanced party of the those "New Zealanders" (a name used by aussie's when they get caught getting into trouble or drinking to much or both) will be landing at Pennsic XXVI to check out the lay of the land, again.

(Fact) Australians have been attending Pennsic in force since Pennsic XIX and the numbers have increased every year. Australians pay an average $3500.00 to attend Pennsic. They must love it and all its people.

(Fact) They have introduced special events to Pennsic such as;

The "Wack-a-Roo" Tourney
Down hill sled racing in red carts
Milk skulling
The Aussie beach party complete with beach and sharks
and last but not least, special sign posting.

Aussies can normally be found by talking to the Coopers. They normally know where we are living.

(confirmed) Even the merchants are not free from rumors. The merchant autocrat staff made a decision to prohibit the manufacture and sale of custom made "vampire teeth" which had been a popular trade at Pennsic for several years. Investigating the prohibition myself, I learned that the ban was instated by Cooper Merchant-crat Staff out of concern for liability. Also stated was that none of the merchant booths offering the service had mentioned it on their application form.

That same year I learned that commercial massage therapy and chiropractic were banned by the merchant autocrat staff, also for reasons of liability.

(untrue) This rumor is for the seriously bored, or the absolutely unimaginative. Yes, there may be some truth that alternative sites are considered each year, but unless the Coopers themselves decide they no longer want to host the SCA, Pennsic War will not leave Cooper's Lake. Besides, if Pennsic were moved to another place, I'll bet that hundreds (or thousands) would still show up at Cooper's Lake next August, just like a Monarch Butterfly migration.

I'm still amazed by how well discussed this rumor is! On the Rialto, it's become such a popular topic that they have been calculating dollar figures down to the last porta-john trying to "build" a new site. There are even some people who are looking for land to meet the need. My suggestion: get one of the permanent Renaissance Festival sites to host an event like Pennsic - they are already equipped to handle large capacity crowds (camping would be tricky though).

By the way, if you're really bored enough to keep passing on this rumor, why don't you get on a computer discussion forum and talk about the phone company's proposed "modem tax" ? *grin*

(unconfirmed) According to many sources (none of them authoritative) there are certain laws in the area that will restrict how Pennsic War can be conducted when it reaches 10,000 attendees. Although it is true that either Pennsic XXVI or XXVII will hit this number (the war grows by about 3-7% per year) there is no truth that anyone will be turned away simply because 10,000 tags have been given away. Many of you may have noticed that last year's badge contained five digits instead of the characteristic four, which probably means they were prepared for the 10k+ contingency this year.

The final count at the Troll Gate for Pennsic War XXIV was just over 9,200 tags issued. This number was within 50 of the previous year.

(submitted by Brendan a.k.a. James Sheridan-Peters) Lady Kristin looked into the Pennsylvania regulations for 'towns' that exceed 10,000 people as a service to the chirurgeonate and found that while there are indeed regulations governing groups of that size, they include things like 24-hour security presence, 24-hour medical presence, a disaster plan, etc. that in nearly all respects are already covered and have been for years. I believe (without the details) that the disaster plan was the only requirement that the SCA did not already have in place and this has since been dealt with (to the best of my knowledge).

(unconfirmed) Though certainly a possibility for future wars, it has not been the case in the past. The SCA may be moving towards this for next year or later, as they have been providing on-site membership service for the past two Wars. This year, the difference in admission fees between members and non-members was $13.00. Through my many shifts at Troll Booth, I noticed that about three-quarters of all arrivals were current members. That the SCA would require membership for attendance to Pennsic War should come as no great surprise, but I firmly believe that if this rule is instated, there will be a way to register on-site at all times.

I should note that the current on-site registration service opens later than the troll booth by several days, so people arriving early do not have the option to join on-the-spot and save $13.00. No matter what the cost - always remember that the Troll Booth for Pennsic War will always be cash, credit card or travellers cheque. Never expect to pay your site fee by personal check. And yes, the picture ID was strictly enforced this year.

(unconfirmed) A rumor floated about this year that members of the Cooper Staff contacted the farmer who owns the site of the Gulf Wars event and tried to coerce him to raise site fees. This rumor was allegedly started by a disgruntled Pennsic merchant who complains about having to pay both a site fee and a booth fee. Get Real. Booth fees for most quality craft shows in Mundania are several times the cost of Pennsic.

After posting this rumor here, I have had at least two additional people mention that there may be truth to this story. As a result, I changed the status to unconfirmed.

(submitted by Malacarb of Bruce aka "Tombstone") Here is a small bite of a rumor I heard up on the battlefield the day of the belted & unbelted battles. This is about MoonWolf of the Midrealm and a Marshal. I do hold MoonWolf in the highest regard, who I have both fought against and talked shop with on many occasions with Adian (and Abetten)from his Rangers, After the belted & unbelted battles, a friendly battle of belted vs unbelted was organized. During engagement, MoonWolf was being pressed by 3-5 unbelted fighters. (I don't know the exact number due to Rumor spend, I have heard up to 8 fighters were after him at once.) A marshall was helping a fighter off the field when Moonwolf accidentally ran into the Marshall. Because of the Great Shame he felt in hitting the Marshall, MoonWolf performed a great act by killing himself upon the field.
---
Information compiled and published by Alexander the Lost. No warranty or guarantee towards accuracy is given for any material appearing on this page.
---
Pennsic.net Home - Search - FAQ - Photos - Pennsic People Database - Comments - Advertising
Didn't find what you're looking for? Try the Index of Topics
---
©1995-2016 Alexander. All Rights Reserved.
Last modified: 08-June-2000