Home


New Folks


FAQ



Pennsic People


Mystic Mail


Pennsic U


Photos


Stories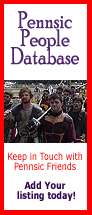 Site Map

Comments

Sponsorship

Links



Sponsorship
Place your banner ad on "Alexander's Pennsic War Website" and tap into a target audience specifically interested in Pennsic War, SCA and early-period recreationism!
New: Sign Up On-Line and Sponsor Frequently Asked Questions
Alexander's Pennsic War pages were started around 1996 as a forum for the sharing of knowledge and interest of Pennsic War and other re-creationist activities. To date we have editorials and information regarding almost every aspect of this event, plus hundreds of pictures taken by our own staff. This site has become one of the best known and most informative unofficial websites on Pennsic War. By becoming a sponsor of this website you will receive the attention of thousands of folks all across the Internet.
Low-Cost Advertising
We receive thousands of hits per day, all year round, from enthusiats who are interested in your merchandise and services. Compared to other websites and other methods of advertising, our fees are a fraction of the cost of comparable advertising you would pay elsewhere.
Cutting Edge Ad Management
We use the most advanced banner advertising management package available today. You may optionally manage the ad yourself using an on-line password protected interface, or you can leave the task to us to set it up for you. If you choose your own management, you have access to the following:
full control of which of your banner ads appear on which of our pages
up-to-the-minute statistics reports (both impressions and click-thru's)
daily accounting of charges and credits
ability to upload, install, or change your own ads and target URL's
e-mail notification options - have your statistics reports mailed to you automatically; be warned in advance when your account runs low or if you receive a burst of activity
Interested?
If you need more detailed information, please see Sponsorship FAQ.

Ready to start now? You can submit your application on-line: Use This Form! Help us make this the best website dedicated to Pennsic War!

Notes: (the fine print)

All banner ads are 468 x 60, to be provided by the sponsor, or we can design them at a charge of $75 each design
We may accept trade-outs in lieu of fees (especially for food merchants @ pennsic). Please inquire.
Banner ads may be static or animated. Maximum size: 15 kilobytes.
We reserve the right to reject or drop a sponsor at our discretion. Unused portion of subscription will be refunded to sponsor.
Cancellation of subscription by sponsor may be done at any time, however no fees will be refunded.
All accounts must be pre-paid. When account funds are exhausted, impressions cease until the account is reinstated.
---
Pennsic.net Home - Search - FAQ - Photos - Pennsic People Database - Comments - Advertising
Didn't find what you're looking for? Try the Index of Topics
---
©1995-2016 Alexander. All Rights Reserved.