Home


New Folks


FAQ



Pennsic People


Mystic Mail


Pennsic U


Photos


Stories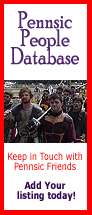 Site Map

Comments

Sponsorship

Links



Sponsorship - FAQ
What does it cost?
We offer three different services as shown in the table below. These are explained in detail further down.

Gold Sponsor - Your ad will appear (in rotation) on all of Pennsic.Net's sponsored pages for a period of 12 months (365 days). Cost: $140.00 per year.

Silver Sponsor - Your ad will appear (in rotation) on all of the pages listed above except for "Home Page" and "Photo Archives" for a period of 6 months (183 days). Cost: $75.00.
What are the ad specs?
The ad slots are 468 x 60 pixels which is the standard banner ad size. You may provide an ad in GIF, JPEG, or FLASH format. The ad download size must be no larger than 15,000 bytes. Ads with animation sequences are encouraged.
Can you make an ad for us?
Yes. We have experienced designers on our team who can make a banner ad for you in either GIF, animated GIF, or FLASH 5. Cost per ad is $60 and up. Once we create an ad for you, YOU own it and may use it anywhere you like, not just our site.

What we need to make an ad for you (one or more of the following*):

A peek at your website if you have one, or

Any paper brochure or catalog for your business, or

Business Name
General idea of what you sell
Any slogans or mottos
Any ideas you have for how it should look
Two or three photos of your product (optional)

*In most cases we can derive pictures, text, and a general feel for your business by looking at your website. If you don't have one a brochure or catalog is the next best thing.
What are "ad rotations"?
Our pages have only one ad slot per page, usually at the top or a prominent location. Your banner ad(s) will be in rotation with other advertisers who have requested the same slot. All advertisers are given equal probability of appearing in an ad slot.
Do you provide statistics?
Yes! We have an on-line account manager where you can receive up-to-the-minute statistics including information on both impressions and click-throughs.
Do you barter?
Yes, we will on occasion accept trade-outs of merchandise for our ad services. If this interests you please contact us to see if we can work something out.
How do I pay?
We accept check, money order and PayPal payments. If you are ready to start now click here to request an account. We will set up your account and notify you when it is ready. You then have 10 business days to send in your payment.
How do I get started?
Fill in our Sponsor Application Form or contact us at: advertising@pennsic.net.
---
Pennsic.net Home - Search - FAQ - Photos - Pennsic People Database - Comments - Advertising
Didn't find what you're looking for? Try the Index of Topics
---
©1995-2016 Alexander. All Rights Reserved.