Home


New Folks


FAQ



Pennsic People


Mystic Mail


Pennsic U


Photos


Stories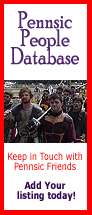 Site Map

Comments

Sponsorship

Links



Sponsor Application Form
To apply for sponsorship on "Alexander's Pennsic War Website" please fill in the application form below. If approved, an account will be created for you and a confirmation will be sent via e-mail (if provided) or by regular snail-mail. We accept payment via personal check, business check, and PayPal.
---
Pennsic.net Home - Search - FAQ - Photos - Pennsic People Database - Comments - Advertising
Didn't find what you're looking for? Try the Index of Topics
---
©1995-2016 Alexander. All Rights Reserved.