Home


New Folks


FAQ



Pennsic People


Mystic Mail


Pennsic U


Photos


Stories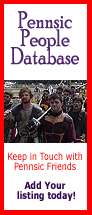 Site Map

Comments

Sponsorship

Links



Pennsic.Net Articles
This is Pennsic.Net's newest interactive forum. Now YOU have the opportunity to speak your mind or share your wisdom on an issue that is important to you... and many, many others! We are encouraging anyone who has been to Pennsic and feels that they could write an article on some aspect of this great War to come forth.
Submitting Pennsic.Net Articles
Write an article for Pennsic.Net on something you know well, and...
Share your experience...
Tell others "how it really is..."
Explore new points of view...
Reach thousands of Pennsic War fanatics...
Become famous!

We are encouraging everyone who has something to share to write something either on one of the topics listed above, or another topic of importance to people who attend Pennsic War. For more details:

Read More on Writing/Submitting Articles
---
Pennsic.net Home - Search - FAQ - Photos - Pennsic People Database - Comments - Advertising
Didn't find what you're looking for? Try the Index of Topics
---
©1995-2016 Alexander. All Rights Reserved.
Last modified: 26-April-2002