Home


New Folks


FAQ



Pennsic People


Mystic Mail


Pennsic U


Photos


Stories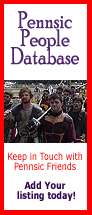 Site Map

Comments

Sponsorship

Links



Frequently Asked Questions
Or... things you really wanted to know about the War but were afraid to ask.
---
Visitors and First-Timers
Camping at Cooper's Lake
Security and Lost-and-Found
Food &amp Feasting
Battlefield, Archery, Rapier
Facilities
Local Information
Miscellany
---
Last Updated: 14-Mar-2012
---
Pennsic.net Home - Search - FAQ - Photos - Pennsic People Database - Comments - Advertising
Didn't find what you're looking for? Try the Index of Topics
---
©1995-2016 Alexander. All Rights Reserved.