Home


New Folks


FAQ



Pennsic People


Mystic Mail


Pennsic U


Photos


Stories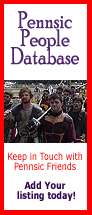 Site Map

Comments

Sponsorship

Links



Pennsic XXIX Interactive Photo Album
Memories of a Fantastic Pennsic War . . .
Welcome! We are proud to show your our new "talking" photo album, guaranteed to be lots of fun. Like a bulletin board, anyone can add captions to the photos. And there are lots of photos.
We encourage everyone to browse, look for youself or your friends. Claim your pictures! Tell a story! And come back another day to look at more pictures.
Finally - we have a few mpeg videos of scenes from Pennsic XXIX that we thought you also might enjoy.
List of Topics:
Items on exhibit at the SCA Arts & Science Fair, plus some photos of Clanne Preachain's Arts & Science Fair at their camp in the bog
Photos from of the two battles on Wednesday. I think they were the Abbey battle and the Canyon Battle.
Not the battle itself, but sights around the battle scenes.
Some gate photos, and other 'camps' type stuff
Arts & Science classes
Musicians, dancers - and the Tinkers
We wanted to take a lot of pictures of just people and the fantastic costumery that they wear. Too many for just one page. Some of these pictures are posed, some were just taken on the fly. This is a great place to look for people!
Battle garb, on and off the field
Do you know these people?
Opening day ceremonies and court.
Almost everyone loves to shop at Pennsic!
As seen around Pennsic...
All the other photos that didn't fit elsewhere
mpeg videos that you can download. These are short clips, 10-15 seconds only
Have Fun!
---
Pennsic.net Home - Search - FAQ - Photos - Pennsic People Database - Comments - Advertising
Didn't find what you're looking for? Try the Index of Topics
---
©1995-2016 Alexander. All Rights Reserved.
Last modified: 22-Jun-2003