Home


New Folks


FAQ



Pennsic People


Mystic Mail


Pennsic U


Photos


Stories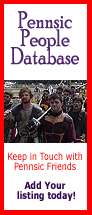 Site Map

Comments

Sponsorship

Links



Pennsic XXX Interactive Photo Album
Welcome! Back by Popular demand is our interactive "talking" photo album. And there are lots of photos. I took 986 photos at Pennsic, and have had a hard time getting them down to a more reasonable number. So many of them are really wonderful.
All new photos and videos have now been added. We really enjoy the comments that you add - keep making us laugh!
Apologies up front for all the names I miss-spelled and titles that are missing. Please feel free to correct me.
A big Thank you To Baroness Artemisia Grimaldi, the media liaison this year. If it wasn't for her, I would not have the opportunity to take the fabulous battle photos from the castle gate. (coming soon...)Thanks!
Ailís

... Photographer and Webslave for Alexander the Lost
List of Topics:
Battle Photos:

Not the battles themselves, but other photos snapped on the battlefield.
Various battles, including fencing. For the most part, I didn't get many good crashing battle photos as I did in previous years (see PW 2000 for great battle scenes).

No, I didn't get to take pictures in the woods battle. This is pictures of fighters patiently hanging around waiting for their orders
from Tibor: "At Pennsic 30, there was a combined challenge and passage at arms designed to be as authentic as possible to the forms of the late parts of period, and in this case themed on the Song of Roland. Count Rhys of Harlech challenged Dom Niccolo Cioranu to 12 blows of the axe each, and a grand melee where they and 11 companions met for the length of 12 verses of the Song. Once concluded, the combined companies accepted 24 challenges, interspersing them with a number of interesting melees. The challenge was the Emprise of the Horn, and the challenges were the Pas du Roncesvalle." (Thanks Tibor!)
Garb
This year I photographed many friendly people who gave me a brief description of their garb. I have arranged them according to centuries. Of course, some of them are going to be wrong, and some have two people from different time periods, so don't worry about it!
pre 1300s
1300s
1400s
1500s
1600s
Unsorted Garb


Mostly gate pictures.
Arts and Science fairs, in the bog at Preachain and at the barn. And Casa Barducci's Subtleties
Have Fun!
---
Pennsic.net Home - Search - FAQ - Photos - Pennsic People Database - Comments - Advertising
Didn't find what you're looking for? Try the Index of Topics
---
©1995-2016 Alexander. All Rights Reserved.
Last modified: 27-Jun-2004