Home


New Folks


FAQ



Pennsic People


Mystic Mail


Pennsic U


Photos


Stories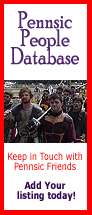 Site Map

Comments

Sponsorship

Links



Pennsic XXXI (2002) Interactive Photo Album
Welcome! Back by Popular demand is our interactive photo album.
This year, we have asked for photographers to share their photos in the album. I recieve new photographs all the time, so keep looking for new additions.
If you would like to add your photographs to the album, please read the instructions for sending photos.
A very big thank you to all the photographers!
Ailís

... Photographer and Webslave for Alexander the Lost
List of Photographers:
(listed in order received - newest at the bottom)
---

Shlomo Korobeinik, Cleftlands - mka Richard S. Mandel

Rowland Evans, of Illiton. -- email: Rowland@housefallenstar.com.

Haqim al-Khayyami - Added new photos Sept8 -- email: sherman@compassres.com

Beorn O'Dea (Grizzly) - photos of Barony of Bhakail and others -- email: griz@vermontel.net

Alexander the Lost - - - Including some really fabulous night shots

Ailis - The few photographs I did get to take this year

Ana bhecc of the East and Atlantia. - mka Megan Brett -- email: ragsdale@mindpsring.com

Baron Havelyard of Bourne

Baroness Danabren - Ealdormere photos

Pixie -- email: girl_you_dont_know@yahoo.com

Eirik Andersen, Kingdom of Ealdormere - mka Kyle Andrews -- email: eirik@rogers.com
website: http://ashendari.tripod.com/gallery.htm

Gregor de Mere, Estmar/ Silver Phoenix -- email: gjp@earthlink.net

Liam Ingelri Breshnoir, Middle kingdom - (Shire) The March of Tirnewydd

Kevin M. Houghton

Britton of Marinus - mka Roy Scherer -- email:lordlyon@lairhaven.com

Ken Biggs -- email: MastrShade@aol.com

Walgrim Von Kirchhoff of Argent Lupe (Atlantia) -- email: bampf@bampf.com

Odd the Wanderer - Photos of the Elmo outfit -- email: bculp@kent.edu

Vosh de'Alkony Halvony, Kumpania Painted Wheel

Kayleigh McWhyte, "Mercenary Scribe" - An Dubhaigheainn / Dragonship Haven (East) -- email: kmcwhyte@aol.com

Paula Bishop - Photos from Casa Bardicci
Have Fun!
---
Pennsic.net Home - Search - FAQ - Photos - Pennsic People Database - Comments - Advertising
Didn't find what you're looking for? Try the Index of Topics
---
©1995-2016 Alexander. All Rights Reserved.
Last modified: 23-Aug-02