Home


New Folks


FAQ



Pennsic People


Mystic Mail


Pennsic U


Photos


Stories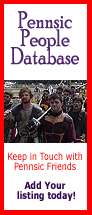 Site Map

Comments

Sponsorship

Links



Pennsic XXXII (2003) Interactive Photo Album
A note about Comments.
This is an interactive forum which allows anyone to post comments on the pictures in any of the albums. Please note that the intent of these comments is to provide caption or commentary on the activity, the people, or the subject matter in general. All submissions are reviewed by the Pennsic.Net staff, and any that could be considered demeaning, malignant, or beyond the scope of constructive criticism will be deleted.
Have fun, but please be considerate!
---
If you would like to add your photographs to the album, please read the instructions for sending photos.
A very big thank you to all the photographers who contributed!
Ailís

... Photographer and Webslave for Alexander the Lost
List of Photographers:
---

Ailís - Iron Rose Tourney, entertainment, etc.
Ailís' - Opening Ceremony Photos

Alexander the Lost - Some Gates, Casa Bardicci, night photos.

Arwen ferch Morgan - Fabulous Fireworks Photos!

Copyright (c) 2003 Amanda Walker

Darter the 2nd - Battle Photos and Misc. Photos
Also, see his personal website at http://www.pbase.com/darter02/pennsic32

C. Vogel

Audrey

Kayleigh McWhyte, Barony of An Dubhaigeainn (East). - A & S Fair items. More A&S Fair items! - and more Added Sept 8th

Brand Armond of Lancaster - Battle pictures from the Middle

Lady Jasmina Salazar

Mavi min Khafif - Turku Performance and other photos

Raven

Karl Vermögen

Namir cel Batjocorit de Stravnos

Haroun ibn-Hama, Naseeb al-taalib and more photos of Battles and photos in Black & White

Lady Beileag of the East - Archery and more

Alison Wodehalle

Kalba - email gerby002[at]umn.edu

Ursus -

Copyright (c) 2003 Tim Tyson.

Lord Svein Aelfricson - of Drachenwald

Ciarán mac Cionath - email silveroak2[at]cox.net - More August Sun Photos

Nevik Demonovich

Katrine Lyndesay - Barony Bhakail, East

Dulcinaya the 'Gypcian - and Dmitri Ferrari

Holly - email: holly123[at]raex.com

Youngin - Black Corsairs

Judith Tacelli

Fiera Temptation email: MistressMagenta[at]nni.com
---
Links to Photos and Videos on other websites [these will open in a new web browser]