Home


New Folks


FAQ



Pennsic People


Mystic Mail


Pennsic U


Photos


Stories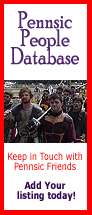 Site Map

Comments

Sponsorship

Links



Pennsic XXXIV (2005) Interactive Photo Album
A note about Comments.
This is an interactive forum which allows anyone to post comments on the pictures in any of the albums. Please note that the intent of these comments is to provide caption or commentary on the activity, the people, or the subject matter in general. All submissions are reviewed by the Pennsic.Net staff, and any that could be considered demeaning, malignant, or beyond the scope of constructive criticism will be deleted.
Have fun, but please be considerate!
---
If you would like to add your photographs to the album, please read the instructions for sending photos.
If you would like to add a link to your website photographs, email me the url.
A very big thank you to all the photographers who contributed!
(only the linked items have photographs at this time - please send more!)
Ailís ... Photographer and Webslave for Alexander the Lost
List of Photographers:
Alexander the Lost
Aodhan
Artemisia Moltabocca'
Baris of Orluk Oasis
Carolina de la Estrella

Karl Rasumssen of Tved

Lady Kayleigh McWhyte
Rneld the Wandere ( Freiman the Minstral 100 fights for kids)
Viviane dite Brindelière (fabulous night shots!)
Yaazmeen
Fighting & Fighters

Camp

Events

Opening Ceremonies
Court
Knightings, etc
Balls, Masks, etc.
Youth Events

Entertainment

Musicians
Plays
General cool looking garb
any other photos of 'entertainment'

Other

People, by Viviane dite Brindelière


(normally, we don't take portraits, but since Viviane has given us many wonderful photos, we are also going to share these - thanks Viviane!)

Stuff I forgot to list - JUST SEND, WITH SUGGESTED CATEGORIES!
List of other Websites with Pennsic Photos
---
Always contact the photographer if you are interested in using any photograph.
If no email is listed, please contact me and I will forward your message. Ailís
---
Pennsic.net Home - Search - FAQ - Photos - Pennsic People Database - Comments - Advertising
Didn't find what you're looking for? Try the Index of Topics
---
©1995-2016 Alexander. All Rights Reserved.
Last modified: 17-Aug-04