Home


New Folks


FAQ



Pennsic People


Mystic Mail


Pennsic U


Photos


Stories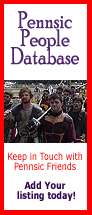 Site Map

Comments

Sponsorship

Links



Pennsic War XXXV (2006) Photographs:
Pennsic 35 Photo Album
And here are some links to some other websites with photos:
QUESTIONS?
If you have questions, please e-mail Ailís at: pennsic@gmail.com
---
Pennsic.net Home - Search - FAQ - Photos - Pennsic People Database - Comments - Advertising
Didn't find what you're looking for? Try the Index of Topics
---
©1995-2016 Alexander. All Rights Reserved.
Last modified: 17-Aug-04